May 18, 2022
COMMUNITY PARTNERS
Harris Fellowship: Strengthening the Early Childhood Mental Health System
"We saw the mental health needs of young children and their families increase throughout the pandemic, and they haven't slowed down yet. There are huge stresses on families and children, and on the systems that serve them – sometimes the needs are just beyond words," said Paige Stewart, a licensed clinical social worker (LCSW) who splits her time between the Cañon City Schools' preschools and the ECHO Early Childhood Council.
Stewart received specialized training to effectively provide mental health diagnosis and intervention for infants and toddlers through the Harris Fellowship. The program began in 1996 and is based at the University of Colorado Anschutz Medical Campus. Caring For Colorado's grant funding has helped to expand the fellowship program beyond training university-based psychologists and child psychiatrists to also include community-based providers who serve pregnant women, infants and young children and their families. Thirty-three community-based providers from across Colorado have now graduated from the year-long program.
Last year, Children's Hospital Colorado deemed the skyrocketing demand for pediatric mental health services to be a "state of emergency," noting that children and families' mental health challenges won't simply go away once the pandemic subsides.
"The way to move out of a crisis is prevention," said Karen Frankel, PhD, Director of the Harris Fellowship program. "By its very definition, infant and early childhood mental health means catching the mental health needs of kids and their families early on and keeping them on the right track before things get problematic. A big challenge to this, though, is our society's way of thinking about prevention. We have a tendency to deal with crisis situations at the expense of prevention."
Dr. Frankel points to Cañon City as a community that has intentionally and proactively built a system of programs that effectively serve babies, young children, and their families. "They take a comprehensive approach to training, ensure programs are tailored to the needs of very young children and their families, and prioritize ongoing reflective support," Frankel said.
A critical element of sustaining this system is to maintain a highly-trained workforce, says Pam Walker, the recently retired manager of Early Childhood at Cañon City Schools and director of the ECHO Early Childhood Council. "Cañon City has had eight community-based licensed clinical social workers participate in the Harris Fellowship program. Over the years we have learned it works best to engage people in this intensive and specialized training if they are from our community and likely to stay here. Otherwise, when people come to our rural community they realize they don't get paid as much and then they leave."
Paige Stewart says the Harris Fellowship was a perfect fit for her. She was in preschool when her family moved to Cañon City and, after working in the Early Head Start program and as an early childhood home visitor, she says she fell in love with early childhood work. "I came to understand the importance of early development to building the best foundation kids can have," Stewart said. "When Pam Walker approached me about participating in the Harris Fellowship, I jumped at the opportunity."
Today, there are three early childhood mental health providers in Cañon City, though Stewart is the only full-time provider. "It's a huge trick to balance schedules with needs, balance clinical work with consultation and triage who can be seen weekly," Stewart said. "We know that the moment families ask for help is when we need to act, so we work hard to be responsive."
Stewart talks passionately about providing IECMH care even as she acknowledges it is difficult work. "We see a wide range of issues, including disruption in relationships, postpartum depression, and traumas – parents with a history of trauma who never received loving care when they were kids, people who were abused in the foster care system, and traumas like the loss of an infant."
She credits three key learnings imparted through the Harris Fellowship to making it possible for her to continue to thrive in this critical work:
One is the program's intensive focus on diversity, equity and inclusion, which Stewart says "strengthens the ability of Fellows to serve diverse populations with humility and understanding."
Second is the program's emphasis on relationships. "When we provide infant and early childhood mental health care, we're not just in the room with a baby, we have their parents, and often their grandparents in the room. We support caregivers in unraveling their collective experiences to identify what they may want to do differently – or keep the same – when it comes to their own child. The training also helps us as providers to process our own biases when we come into a room to work with families."
And perhaps most important, says Stewart, is Reflective Supervision. "This practice helps providers to maintain a healthy balance. We support families in reflecting on their parenting styles and as professionals we reflect on how this work impacts us."
Learn more about the Harris Fellowship and our work to support Healthy Beginnings, or we welcome you to reach out to Sarah Dutcher, Healthy Beginnings Statewide Philanthropy Lead.
---
INITIATIVE UPDATES
We are excited to announce ReproCollab, an initiative to advance reproductive equity in Colorado. ReproCollab will uphold reproductive justice principles in responding to the social, economic, and political conditions of oppression that limit reproductive and sexual health choices. It builds on more than a dozen years of intensive efforts in Colorado to safeguard and increase access to sexual and reproductive health information and services, and its launch comes at a critical moment in time.
"The work of ReproCollab is especially important today as our nation faces the possibility of a regression in reproductive health care. Strengthening access and increasing opportunities for individuals to make the best decisions for their health and well-being is foundational to healthy and strong communities. ReproCollab is committed to fostering and elevating leaders across the state to reimagine reproductive equity for all," said Juana Rosa Cavero, who serves as the Director of ReproCollab.
A key investment of $27 million from an anonymous donor in 2008 made it possible for Colorado to become a national leader in reducing unintended pregnancies. Programs and services provided through the Colorado Family Planning Initiative drove a 50% reduction in teen births and abortions and increased the percentage of people accessing low- or no-cost long-acting reversible contraceptives (LARCs) from 6.4% to 30.5%.
"We led an effort in 2015 that resulted in several Colorado foundations collectively providing $2.1 million in bridge funding to sustain this remarkable progress," said Linda Reiner, Caring for Colorado's President and CEO. "Two years later, Caring for Colorado partnered with The Colorado Health Foundation to create the three-year, $4 million Colorado Collaborative for Reproductive Health Equity. This initiative has supported communities statewide in increasing access to contraceptives, sustaining sexual health education programs for young people, and growing patient-centered contraceptive counseling and care by clinicians.
"The strategy also supported a human-centered design process in Pueblo and Adams counties, a powerful approach that underscored just how critical it is on this deeply personal issue to listen to people in communities, especially young people of color. The insights and guidance of young people, the adults in their lives who matter most to them, and community leaders are central to our taking this work to the next level. We know that reproductive equity is directly tied to children, youth, and adults having access to information and resources that support positive well-being and opportunity across the lifespan."
Listening to people in communities remains core to ReproCollab, with its Kitchen Table – an advisory committee – informing key strategies. "The individuals serving on ReproCollab's Kitchen Table have deep roots in the communities they serve," Cavero says. "The Kitchen Table will be particularly attuned to young people of color, low-income families, and people in rural communities, all of whom face some of the biggest barriers to accessing the information and resources they need to make decisions about their bodies, sexuality, and relationships."
ReproCollab will provide leadership, advocacy, and funding support for community-based efforts across Colorado to achieve reproductive equity through policy, practice, and programs. ReproCollab is an initiative of Caring for Colorado, with funding support from Caring for Colorado and the Colorado Health Foundation.
Visit ReproCollab's website to learn more about its efforts and the Kitchen Table advising this work, or reach out to Juana Rosa Cavero, ReproCollab Director.

Together We Protect Interim Evaluation Findings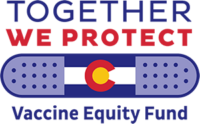 An interim evaluation conducted by OMNI Institute shows that 62 nonprofit and community-based organizations across Colorado that received Together We Protect grants helped to close the gap for communities hit hardest by the pandemic. Their innovative and persistent on-the-ground efforts in communities disproportionately affected by COVID-19 due to race and/or socioeconomic status helped to provide culturally appropriate information and low-barrier access to the COVID-19 vaccine.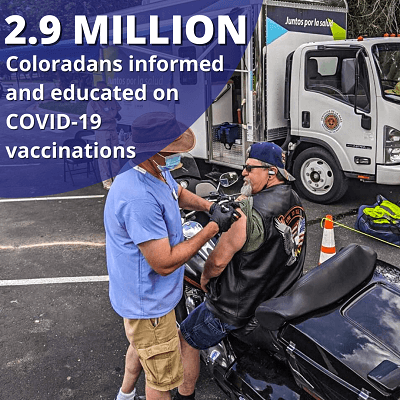 Together We Protect – Colorado's Vaccine Equity Fund – is a collaborative effort of Immunize Colorado, Colorado Vaccine Equity Taskforce, and 14 funders. Learn more here.