May 22, 2023
Grantee Spotlight:
Alamosa High School Supporting Teen Mental Health
During National Mental Health Awareness Month, we are featuring youth-led efforts to strengthen the social, emotional and mental health support system for Alamosa High School (AHS) students. AHS is a grantee of Caring for Colorado's Youth Connections initiative.
"I believe AHS may be the only school in the state to have a full-time mental health professional on staff," said Tom Hays, mental health counselor at AHS. "Mental health counselors are typically brought into schools on a referral basis, but by being on staff and in the school every day, students and teachers see me and know me. Being "one of them" goes a long way toward being seen as a safe option. Students increasingly feel more comfortable stopping by my office to talk."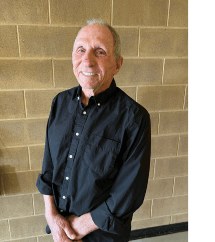 Before joining AHS five years ago, Hays spent 36 years counseling juveniles for the Colorado Division of Youth Services, growing his expertise in trauma-informed care. "What drives my philosophy is the belief that underlying almost every mental health diagnosis is the unfortunate experience of early life trauma," he said. "What we typically deal with are the symptoms like depression, anxiety and severe mood swings and never get at the heart of the matter."
To better address the root causes of mental health challenges, Hays says he has provided "a ton" of trainings at AHS on trauma-informed care, crisis interventions, suicide prevention, social and emotional development, wellness and more. "Teachers have greater awareness, know signs to watch for, and have stronger observation skills. This has helped them to interact with students more comfortably and provide needed support," he says. "A natural progression to this work is training and supporting students to connect with their peers."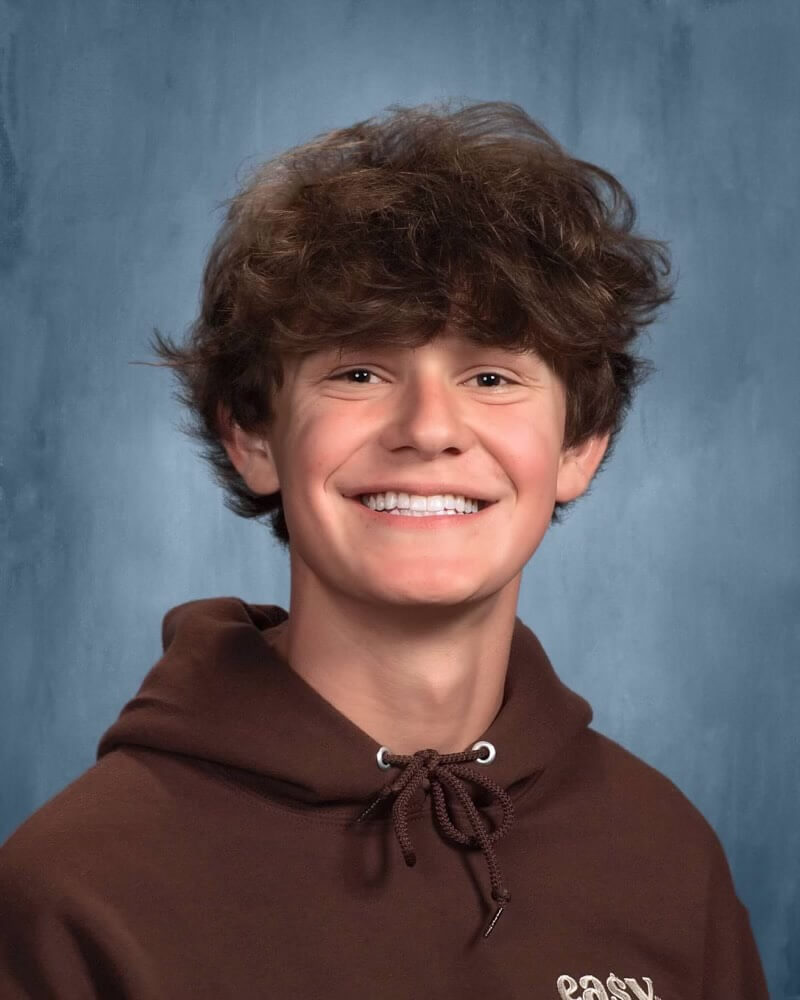 AHS junior Brock Benton is taking the lead to make this happen. "In my freshman year I had some mental health problems," Benton said. "I told my mom I wanted to talk to someone and she suggested Tom (Hays). He was a phenomenal resource – just what I needed. Then, in my sophomore year, I learned about Youth Connections and thought we should apply for a grant. I had noticed that a lot of students weren't aware of resources to support their mental health, and some students were kind of scared to talk with an adult about their problems. I decided it would be cool to have a student-led resource and Tom helped to make this happen."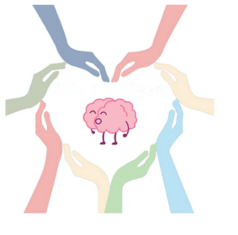 After receiving a Youth Connections grant, Benton created a student team and together they created an action plan and a name for their program – Minds in Shape. They then polled the AHS student body, asking about their awareness and use of existing mental health resources and other types of resources they would like to see the school offer.
"We received a lot of great suggestions," Benton said. "Probably the top two recommendations were to train students to provide peer counseling and to offer more ways for students to connect with mental health counselors, including different meeting locations (other than a counselor's office) and an anonymous drop box."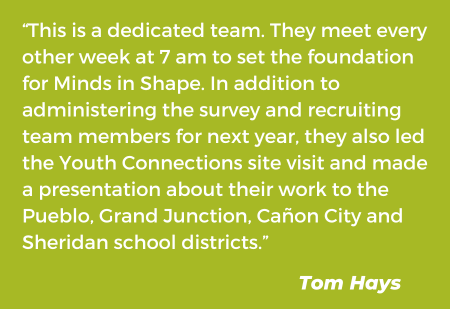 Work is now underway to act on the suggestions they received and to recruit and maintain a diverse Minds in Shape team that is well positioned to reach students across all grade levels (including incoming freshman), friend groups and interest areas. "Our goal is to create a peer-led program that is sustainable well into the future," Benton said. "We want students to learn about mental health, give them resources they're comfortable with, and create an atmosphere that is comfortable so that it's no big deal for students to get support for their mental health needs."
The Colorado Education Initiative leads implementation efforts for Youth Connections in 13 school districts. The initiative aims to create school environments that are physically and emotionally safe, filled with trust and focused on building social and emotional skills. Youth take an active role, working together with teachers, staff, families, and community members to create climate and culture change. Stronger connections are also being established to ensure community resources are readily available to provide care for students and staff. Caring for Colorado has invested more than $6 million in this initiative to support schools in creating safe, supportive environments for all students.