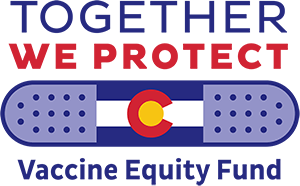 Together We Protect – Colorado's COVID-19 Vaccine Equity Fund supports organizations working in communities disproportionately affected by COVID-19 to ensure that people who face systemic barriers have the most appropriate and accessible information about the COVID-19 vaccine and can access the vaccine through low-barrier opportunities.
Funding Opportunity
Accelerating Vaccine Equity for Colorado's Youth
Achieving high vaccination rates across all Colorado communities can help mitigate the disproportionate impacts of the COVID-19 pandemic and prevent widening disparities going forward. Now that access to COVID-19 vaccines has opened for adolescents ages 12 and over, and as eligibility is expected to expand to include younger children this fall, we are committed to ensuring equitable access for children and youth to receive COVID-19 vaccines. 
FUNDING DETAILS
Together We Protect supports community-centered and trusted Colorado-based organizations to provide culturally relevant outreach, education, and support to youth and/or caregivers to ensure that those who face systemic barriers have access to the COVID-19 vaccine. Efforts targeting youth who are currently eligible to receive the vaccine (ages 12 and older), as well as those likely to become eligible for the vaccine will be considered (emergency authorization for younger ages is expected in late 2021/early 2022). Grants ranging from $5,000 to $25,000 will be awarded to applicants from across Colorado. Funds must be expended by March 2022.
Before you apply –  Learn more about this funding opportunity, including criteria for organizations eligible to apply and types of projects the fund will support. 
When you apply – Please use Google Chrome as your browser when applying. Follow the directions on the online form to complete the application. Important note – You cannot save and edit your work while working on the application form. Use the Proposal Overview Template to write and edit your answers and then copy and paste each response into the corresponding section in the online form.
Please contact us – If you have questions or need assistance completing the application, please contact us at grants@caringforcolorado.org. Please state "Together We Protect" in the subject line.
Together We Protect is a partnership of 
and these Colorado foundations: