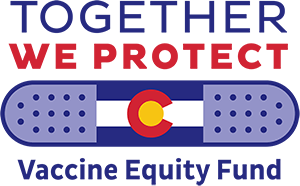 Together We Protect – Colorado's COVID-19 Vaccine Equity Fund supports organizations working in communities disproportionately affected by COVID-19 to ensure that people who face systemic barriers have the most appropriate and accessible information about the COVID-19 vaccine and can access the vaccine through low-barrier opportunities.
Coloradans who live daily without access to critical services and opportunities due to race and/or their socioeconomic status have been disproportionately impacted by COVID-19 in Colorado. These same communities are likely to face increased challenges accessing the COVID-19 vaccine. Ensuring all individuals have access to the vaccine and achieving a high vaccination rate across all Colorado communities will be necessary to mitigate the disproportionate impacts of the pandemic and prevent widening disparities going forward.
Together We Protect – Colorado's COVID-19 Vaccine Equity Fund supports Colorado community-based organizations, working in partnership with state-contracted vaccine providers, to provide culturally relevant outreach, education, and support to ensure communities who face systemic barriers have access to the COVID-19 vaccine. Grants ranging from $10,000 to $100,000 will be awarded to applicants from across Colorado.
Read about the Together We Protect grantees recently awarded funding in the first round. 
Grant deadline
Wednesday, April 28, 2021, by 5 pm
Before you apply – Learn more about this funding opportunity, including criteria for organizations eligible to apply and types of projects the fund will support.  Watch the recorded informational webinar, view the webinar slides, and read the questions and answers about this funding opportunity.
When you apply – Please use Google Chrome as your browser when applying. Follow the directions on the online form to complete the application. Use the Proposal Overview Template to write and edit your answers and then copy and paste each response into the corresponding section in the online form. Important note – You cannot save and edit your work while working on the application form.
Please contact us – If you have questions or need assistance completing the application, please contact us at grants@caringforcolorado.org. Please state "Together We Protect" in the subject line.
Together We Protect is a partnership of 
and these Colorado foundations: