Caring for Colorado works to improve the lives of children and families in Colorado through collaboration, partnership, shared knowledge and grantmaking. 
Grant Application
Information
Submit Part 2 – Selected Applicants 
Part 1 applicants for our Public Policy Advocacy funding will receive an email invitation outlining next steps within four weeks of September 14, 2023. Part 2 of the grant application must be submitted through the online grants portal by 5 pm on October 26, 2023. Part 2 will appear under "Draft Requests" in the portal. Please use Google Chrome as your browser when applying and see Grant Portal Tips.
Read More
Grantseekers must have credentials to access the online grants portal.
If you have previously registered for an account, you can log into the online grants portal to complete Part 2.
If you have not applied previously, you will receive log in credentials via email after you are selected to move forward to Part 2. Please contact

grants@caringforcolorado.org

if you do not receive log in credentials within three business days of being selected to move forward.
Requirements of Part 2 Application
Part 2 Proposal Narrative: We encourage applicants to write their answers to the required questions in this Part 2 Proposal Narrative and review them before entering responses in the online portal.
Program/Project Budget:  This form is submitted as an attachment in the portal and is NOT required for general operating requests. The budget consists of three parts: projected expenses, projected income and a narrative description of expense items.
Required Attachments (submitted as attachments in the portal):
Board of Directors – list of the board of directors, with titles and terms
Key Staff – list of key staff, with titles and tenure
Major Contributors – list of the major contributors to the organization and contribution amounts for the previous fiscal year
Annual Financials – audited financials for the most recently completed fiscal year end. If audited financials are unavailable, please provide IRS Form 990/990EZ or internal year-end balance sheet and income statement.
YTD Financial Statements – most recent year-to-date internal financial statements (Statement of Activities and Balance Sheet), including budget-to-actual data, if available
Operating Budget – current-year annual operating budget
If using a Fiscal Agent:
Fiscal Sponsor's most recent fiscal year-end financial statements; audited if available
Fiscal Sponsor's most current year-to-date internal financial statement (Balance Sheet and Statement of Activities)
Part 2 of the grant application must be submitted by 5 pm via the online grants portal on the deadline date.
View a PDF of the Part 2 Application. (For reference only – applications must be submitted online).
After Part 1 submission, you will receive email confirmation within one business day. We will notify both applicants selected to complete Part 2 of the application and applicants whose proposals are declined within in four weeks.
Read More
Proposal review — Philanthropy team members begin their review after the deadline.
Caring for Colorado receives more proposals than it can fund. If a Part 1 application does not align with the guiding principles or focus areas, the applicant will be notified of declination via email.
Organizations selected for further review will be contacted within four weeks of the Part 1 deadline regarding next steps. Applicants moving through to Part 2 will have approximately three weeks to submit additional information about their organization and proposed work.
The full review process takes about five and one-half months.
Philanthropy team members will contact applicants who are selected to move forward with Part 2 to schedule remote and in-person site visits to discuss the proposal. They may request additional information throughout the process.
Funding recommendations and decisions are made by the Caring for Colorado staff in partnership with our Board of Directors. We notify all grantees of final decisions via phone or email.
Part 2 Application Webinar
Watch our 12-min Public Policy Advocacy Part 2 application webinar, previously recorded.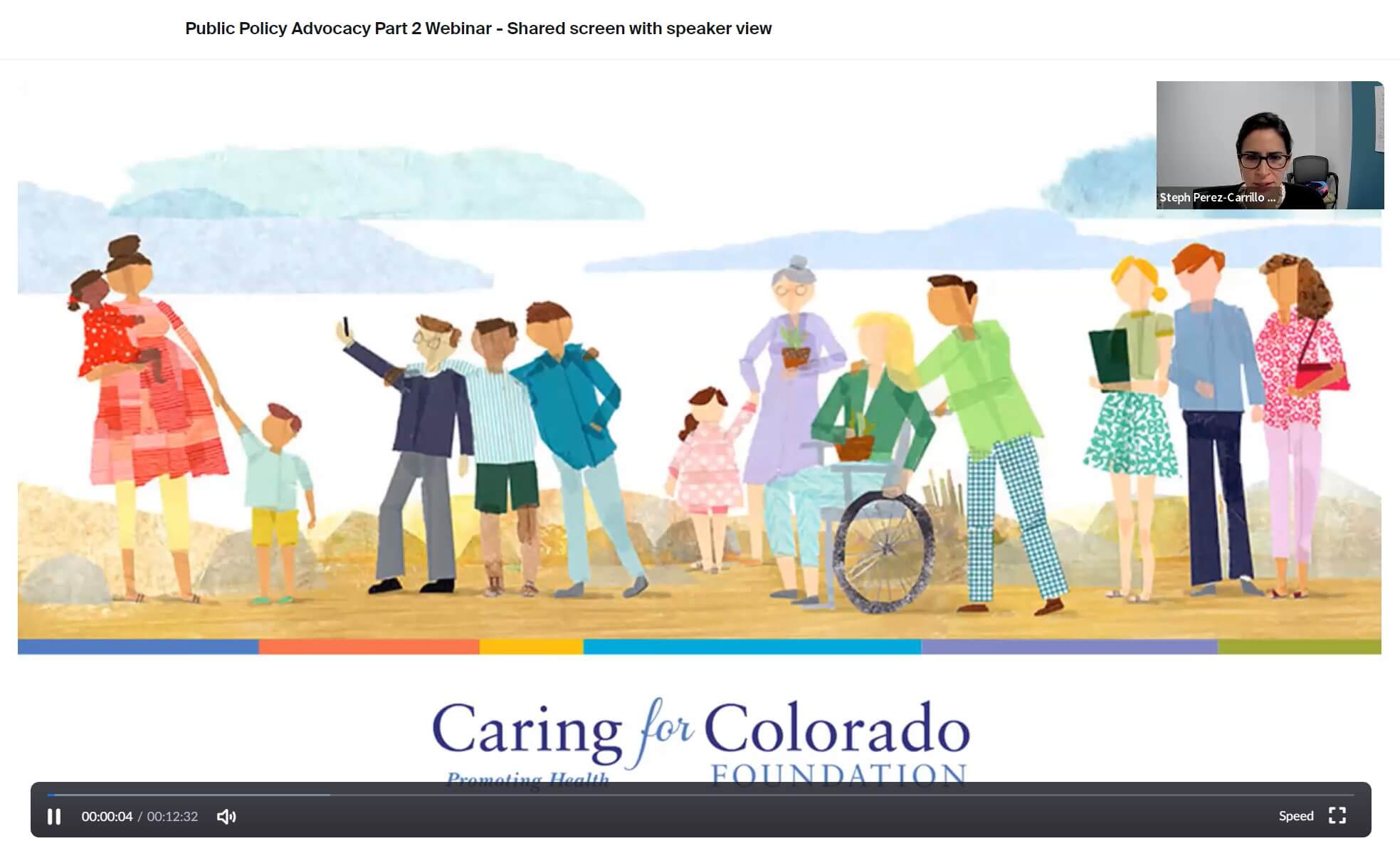 Contact us with questions:
Email: For general information about the application process or for general questions about eligibility, please contact our grants team at grants@caringforcolorado.org.