Strong and
Resilient Families
Families need support to provide stable and responsive environments for children to grow. Children deserve to have safe and happy experiences throughout their childhood and adolescence and to grow up to have full adult lives.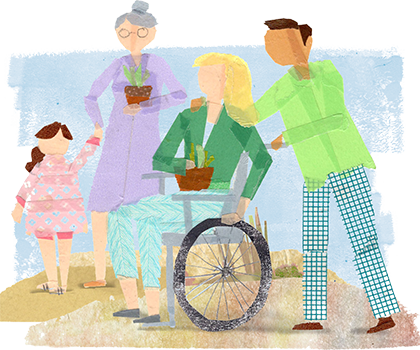 We seek to ensure all children, youth and families have strong foundations and equitable access to opportunities. We support efforts that focus on engaging families, organizations and communities to identify and strengthen families' protective factors and promote family-centered mental and behavioral health.
Efforts that focus on families experiencing the highest barriers to health and well-being in rural, urban and frontier communities that incorporate family voice into decision-making are our priority. Funding may support general operations, programs/projects, capacity building, collaboration and systems building.
Strengthening Protective Factors
We support programs that promote and strengthen protective factors, including organizations working with families to access a broad array of resources and organizations preventing and responding to crisis.
Promoting Family-Centered Mental and Behavioral Health
We seek to fund access to community-based programs and planning and/or capacity building for family-centered mental and behavioral health treatment and supports.
Fortaleciendo Familias (Strengthening Families) supports Latinx families facing emotional, behavioral and crisis-oriented challenges in southeast Colorado Springs.
Family & Intercultural Resource Center
Developing a peer mental health support model for Spanish-speaking families in Summit County through the Compañeras project.
Community Partnership Family Resource Center
Family support services that promote children's social and emotional development and safety through home visitation and comprehensive, coordinated family services in Teller County.