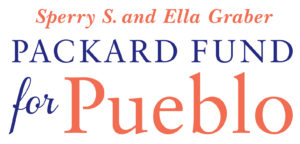 Please review the steps below to complete your application submission. 
Submit Part 1 Application
To be considered for a grant, all prospective Packard Fund for Pueblo applicants – including current grantees – must submit a Part 1 application online (previously known as the LOI). Part 1 applications for the Community Impact Cycle are due Wednesday, July 6, 2022, by 5 pm.
The Packard Fund staff and Advisory Board review Part 1 applications to determine eligibility and alignment with the Fund's priorities and approach. Part 1 applicants are either selected to complete Part 2 of the grant application or declined based on this review.
Read More
Organization Information: Name, Tax ID, Tax Class, Address, County where primary office is located, website address (if applicable)
Contact Information: Executive Director Contact Information and Title, Project Primary Contact Information and Title
Request Information:

Organization Annual Budget
Organization Fiscal Year End (mm/dd)
Grant Type – Program or Operating
Focus Area – Children, Youth, and Families or Community Impact
Proposal Title
Proposal Summary (500 character max)
Mission Statement
Amount Requested
Proposal Start Date
Proposal Term in Months
Anticipated Number Reached
Geographical Area Served

Proposal Overview Template (Use this Word document template to write and edit your answers before copying and pasting them into the online Part 1 form.)
Selected Applicants Only – Submit Part 2
The Sperry S. and Ella Graber Packard Fund for Pueblo application mirrors the Colorado Common Grant Application.
Applicants selected to move forward will receive an email invitation outlining next steps three weeks before the Part 2 deadline. Part 2 of the grant application must be submitted through the online grants portal by 5 pm on the second deadline date.
Please read our Application Process Overview to learn more.
For more information on using the online system, see Grant Portal Tips.